Take Me Out to the Ball Game…
Take Me Out to the Ball Game…
Take Me Out to the Ball Game
"Baseball is like church. Many attend, few understand."
I was born in the 1960s and fell into the role of being a typical girl for the decade, life and times. I knew no other way. I played with dolls and was the nurse when my brothers played games of army or cops and robbers. Never expecting to do well in math, I professed to hate it, and no one thought to change my thinking. Instead, I helped my mother bake and set the table at dinner time.
Girls my age wore dresses to school as we were not allowed to wear pants. By grade three, after much petitioning by my mother and other like-minded women, the rules were changed.
Ironically, when my mother was a girl, she was a tomboy. She climbed trees and rode bicycles. Rebelling was her favourite thing to do, and she created a gang of other spitfires who refused to live by conventional 1930s standards. In the wintertime, one cold prairie year, she threw a frozen sock with a rock in the toe at a bully. Instantly she became famous and the talk of her town in Tabor, Alberta. Don't mess with Frances was the sentiments all around.
As for me, I was more of a little miss goody two shoes.
At the North Shore Winter Club, I took figure skating lessons, and my brothers played hockey. I went to afternoon movie matinees over town with my mother, and my brothers went fishing on Chilliwack lake with my father. I worked on my Mary Poppins jigsaw puzzles while my big brother Kenny played soccer.
I adored my Barbie Dolls zooming them around in a pink convertible or packing them up in their orange van for a camping trip with homemade knitted sleeping bags.
On dreary, rainy North Vancouver days, I created tasty treats in my Easy-Bake Oven, serving up thin slices from sugary sweet chocolate discs on a doily covered plate to every member of my family. All prepared in the comforts of my home and cooked by a lightbulb.
My cat Ginger was the best-dressed pet on the North Shore as I maneuvered him into doll clothes, wheeling him around the neighbourhood at 18th and Moody in a baby stroller. He was passive and contentedly lolled about under a yellow crocheted baby blanket, while we meandered up and down Grand Boulevard. His tail annoyingly twitched, indicating he had other thoughts on his mind.
However, every spring, once the baseball season started, together as a family, we went to Loutet Park Baseball Diamond, behind Sutherland High School in North Van.
My father sponsored a Little League team named after his business, Vince Bonner Bulldozing. Sometimes he coached, and some years he had men – other fathers do the coaching.
My father is the tall, handsome man on the right, standing beside my oldest brother Doug.
What was interesting is that my father did not have a competitive bone in his body. He mentored his team nonetheless. He taught them to be good sports, show kindness and have good clean fun.
During practices and game days, well known for his clowning around, his genuine boisterous laugh could be heard from near and far.
After every game, my dad enjoyed taking the boys to the local corner store, Williams Confectionary. A neighbourhood store that carried all our favourite treats; saltwater taffy, mojo's, spearmint green leaves, marshmallow strawberries, lick-a-maid straws and salt and vinegar potato chips. Root beer popsicles were my favourite.
The entire little league team piled into the back of his pickup truck, parade-style and ice-cold Cokes were handed out to each kid whether they won or lost, struck out, or hit home runs.
Many people, parents, other teams and by-standers would scratch their heads, throw up their arms and shake their heads at my father's style of coaching. Nothing was thought of the twelve boys rolling around in the back of the pickup truck!
It could go down in the history books that my father's baseball team never won a game. This brings to mind his unspoken philosophy, It does not matter if you win or lose, but it is how you play the game that counts.
Both my brothers played on the team, and my mother was a scorekeeper. I played in the forest with other little sisters and begged to purchase something from the on-sight concession stand. Much to my dismay, the answer was always no, but I made a point to ask anyway. My forest friends and I gleefully chimed we want a pitcher, not a belly itcher, even though we did not understand the meaning behind our chanting.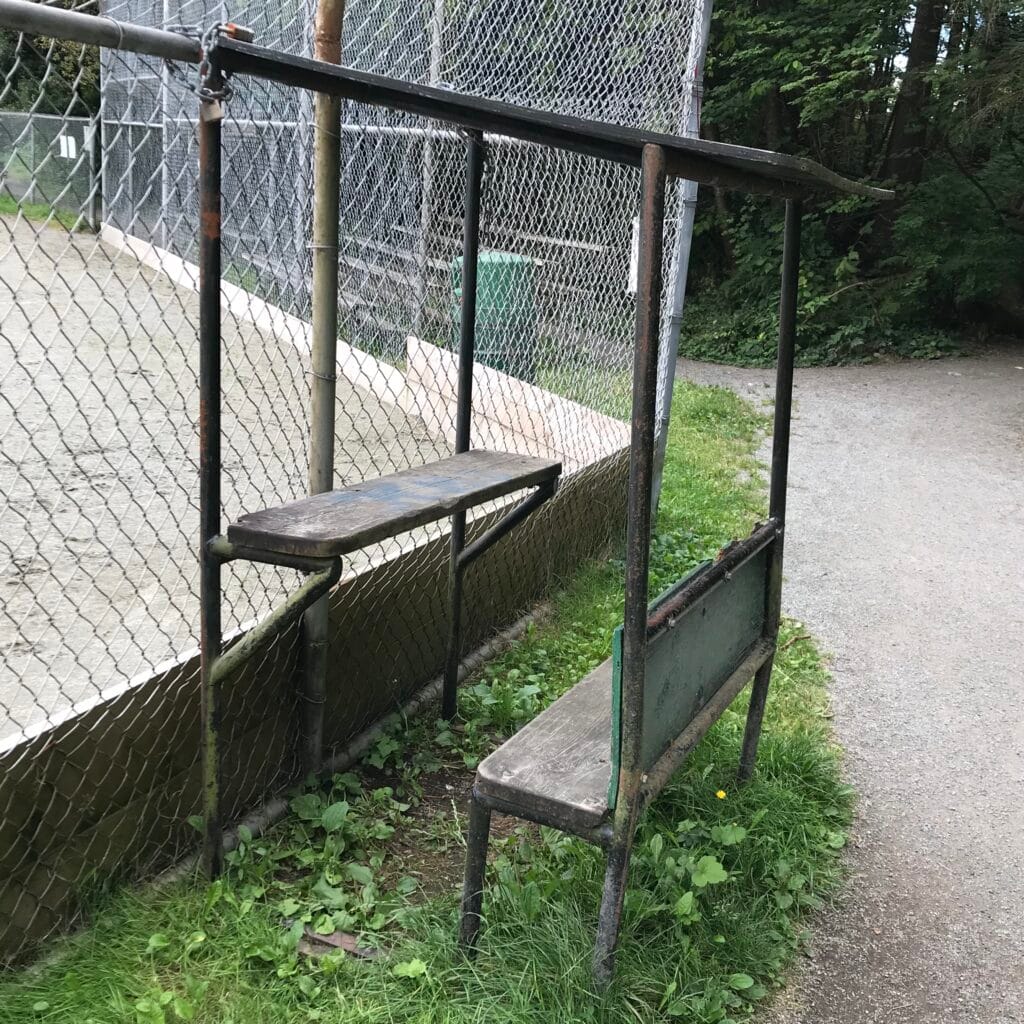 Watching my mother in a floral printed dress sit behind the bat catcher, on a little wooden bench, with a pencil and scratchpad to keep score, impressed me. She appeared beautiful and smart. I wondered what she was scribbling; it always looked essential, which warmed me and made me feel proud.
I never knew the tomboy side of my mother. When I came along, her adventurous spirit had been squelched so many times that it failed to appear. She had hung up her patched blue jeans and rebellious attitude many years prior. Long gone were the stones nestled deep in her pockets never to be thrown again. She traded everything in for a wedding ring, handsome husband, house dress, four children and housework.
The free-spirited younger version of my mother occasionally emerged for storytelling purposes, giving me a slight glimmer of who she used to be.
My mother's memories became my memories.
Years ago, after a failed marriage and struggling as a single mother, I worked hard and often felt beaten down, it was the age-old saying; It does not matter if you win or lose, it is how you play the game that counts, that reminded me of my dad and propelled me forward in life.
I was out for a walk the other day and took a trip down memory lane, which entailed a short walk over to the still standing and utilized baseball field of my youth, Loutet Park, behind Sutherland High School in North Vancouver. Even though I did not play the sport as a child, I have fond recollections of a family event just the same.
Ghosts from my past showed up that day. The umpire's sober caged in face and puffed out padded chest. The ambitious expressions of freckled-faced sweaty boys, and my dad's gregarious smile while throwing his head back laughing, mixed in with his hollering, "way to go, or better luck next time kid."
Visualizing my mother keeping score, soft brown curls, correctly applied red lipstick, wearing a blue and yellow floral dress tucked in around her will always tug at my heartstrings.
The spectator bleachers, dugout and scorekeeping bench, are still the same, just a little worn and weary but not ready to throw in the towel just yet.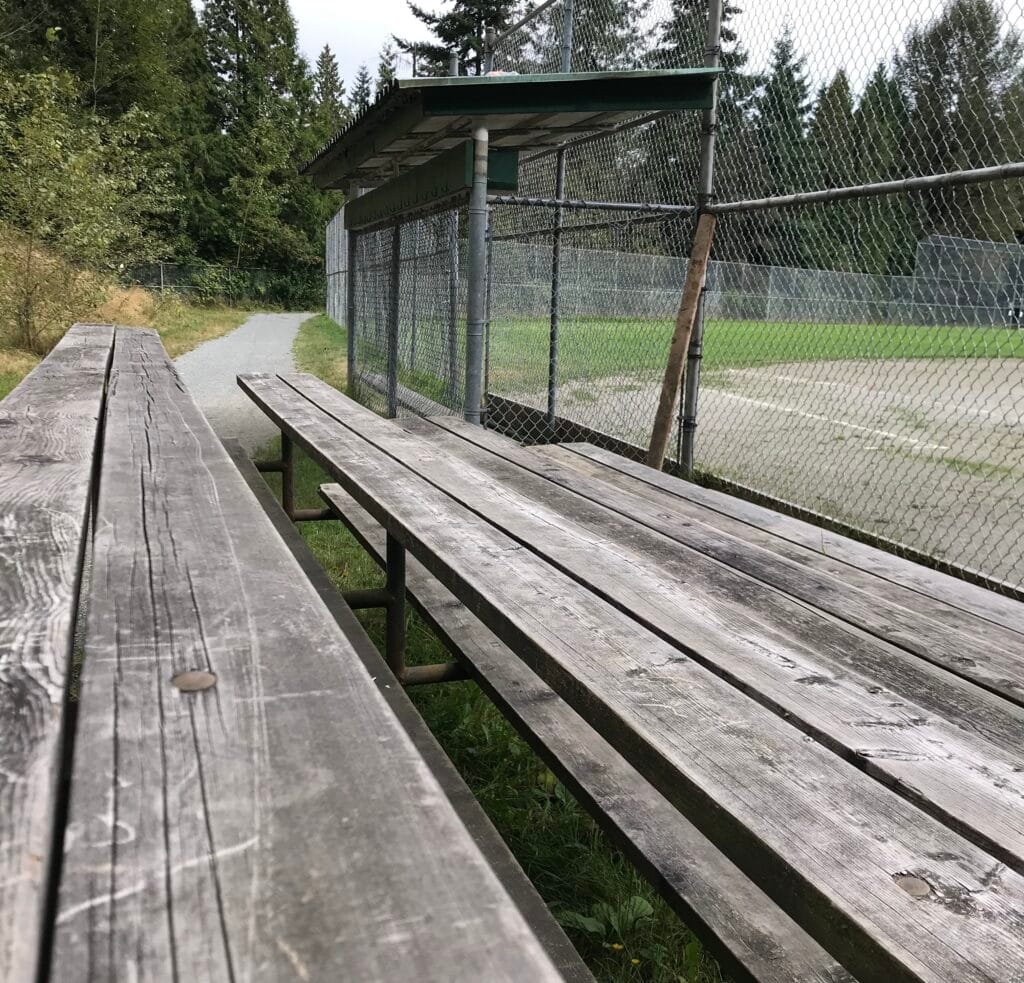 I treasure the thoughts of my typical 1960's childhood, and recently, I have felt inclined to learn how to throw a ball, hit it with a bat and catch it with a baseball mitt. If you think that you can teach an old dog new tricks, leave me a comment and let's make a date. I know just the baseball diamond that you can teach me at. I promise to be a good sport.